THE SUGAR-FREE MIRACLE™ DIET VALUE PACK

The Value Pack price is just $14.99, and includes the Sugar Free Miracle™ Diet Handbook, the Heal My Body Workbook, the Success Journal, as well as The Snack Collection Cookbook and The Dessert Collection Cookbook. All five books are instantly available as downloadable PDFs. This is the most convenient, affordable way to give you all the information you need to be inspired, successful and to get started right away.

BOOK #1: THE SUGAR-FREE MIRACLE™ DIET HANDBOOK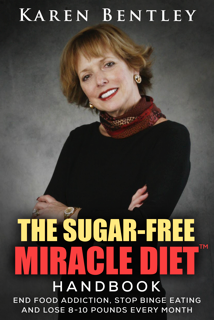 Karen Bentley's Sugar-Free Miracle™ Diet Handbook is the definitive, must-have bible of sugar-free eating.  It's specifically, exclusively developed to end food addiction, stop binge eating and  to lose 8-10 pounds every month. There are just seven simple diet rules that anyone can follow.  The daily food budget is unusually filling and features up to 4 pounds of food every day.  Learn which non-caloric sweeteners are the smartest choices and much more.  Click Here to see Table of Contents.



Donna Ulbricht
The Sugar-Free Miracle™ is well written and clearly well researched. I totally agree that the "fat free" legend has helped Americans gain weight. Additionally, your pyramid concept is more in line with what people SHOULD be eating. I enjoyed the book and hope it's a bestseller!
BOOK #2: THE HEAL MY BODY WORKBOOK

The Heal My Body Workbook is a powerful 10-day transformational process for healing your body through the power of your mind. The workbook is enjoyable and inspirational because it's all about you: your body, your issues, your lifestyle, and what you want for yourself. Learn how to create a vision for a more pleasing body and then learn how to manifest that vision into reality. Taking time to clearly see what you want in your mind is the first step in the weight loss process. It's essential to develop a clear idea of what is wanted before you can have it. Click Here to see Table of Contents.
BOOK #3: THE SUCCESS JOURNAL

The Success Journal is a simple but essential tracking tool for getting yourself focused on living one good day at a time. One good day is all you ever need to ask of yourself. Don't worry about what you're going to do the rest of your life. The secret is to focus on having one good day. This is a doable goal that everyone can achieve. The Success Journal disciplines you to remember your weight loss intention, to pay attention to what you eat and when you eat it, to make time for physical activity, and to applaud yourself about the things you do well. People who track what they eat are 100% more successful than those who don't! Be one of them. Click Here to see Table of Contents.

BOOK #4: THE SNACK COLLECTION COOKBOOK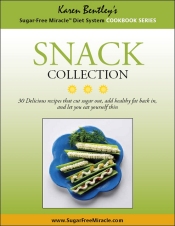 Smart, strategic snacking is essential for weight loss success. You need snacks to cut hunger and pre-empt binge eating. Sure, you can buy all your snacks, but that gets expensive. Here are 30 easy, practical, healthy snacks for you to make. Click Here to see Table of Contents.
BOOK #5: THE DESSERT COLLECTION COOKBOOK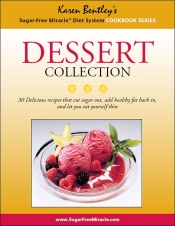 Who doesn't love dessert? There's no need to sacrifice desserts from your life. We got the sugar and white flour out and left the flavor and satisfaction in 30 of your favorite recipes so that you can have them guilt free. Enjoy! Click Here to see Table of Contents.


Andrea S.
The peanut butter and cream cheese nugget snack is fast and easy to make, easy to carry around, and a whole lot cheaper than buying snack bars. Just having one of them fills me up.
GET STARTED NOW!

The affordable $14.99 Value Pack pricing is as good as it gets. Value means you get a lot of information for a reasonable price. And pack means it's all bundled together to give you convenience, ease, doability.
Individually, the retail price of these items is $30.00 When you buy the value pack, you get a huge savings of $15, a 50% discount. Very reasonable indeed.