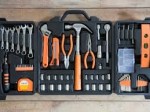 The right tools make it easier to get the job done. Sugar-Free Miracle™ Diet tools are FREE and available to all purchasers of The Sugar-Free Miracle™ Diet Handbook. Use the members only invitational passcode provided in the last chapter of the Diet Handbook, and register or log in here.


● Automated tracking tool
– This web app tracks amounts and types of foods eaten and provides daily cumulative totals.
– It also tracks weekly or monthly body measurements and photos.
– This is the convenient place to comment on progress and to log eating mistakes (if any). When mistakes happen, it's especially useful to note the time of day and the type and quantity of food eaten.
● PDF form: Daily Food Tracking Success Diary
● PDF form: Weekly/Monthly Measurement Tracking
● PDF form: Diet Overview (A snapshot of the daily food budget)
● PDF: Ultimate List of Caloric Sweeteners
● PDF: Ultimate List of Oils and Cooking Fats
● PDF: Cooking Measurements and Weights