Sign up here to get Karen Bentley's newsletter, your exclusive resource for sugar-free information. You'll get scientific news, recipes, product recommendations, inspirational stories, updates about upcoming seminars and programs, and anything else that's relevant and interesting. The newsletter is emailed to subscribers once a month.
Get your free recipe
All subscribers get a FREE immediately downloadable copy of Karen Bentley's The Do-It-Yourself Diet Cookie Recipe, a delicious, crowd-pleasing cookie with big flavor, big hunger prevention and low sugar qualities.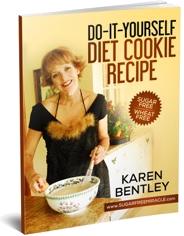 Your information is confidential
No risk of hacking.
The no spam promise
No risk of your name or contact information being sold, rented or shared.
It's easy to unsubscribe
Just click to unsubscribe. It's that simple.
Do it now
What are you waiting for?